Once again the company took the plunge and continued with new investments. In 1999 the elements came together with the creation of Marina de Bercy.
Les Vedettes du Pont Neuf started up a new boat company: The company Bercy Navigation was formed in association with Luc Devillers for the construction of a new restaurant boat with 250 seats, the Grand Pavois, and a 60m-long jetty, the Emile pier. The Grand Pavois was modern and revolutionary in its design: it was powered by a hybrid mix of fuel/electricity. The pier had a bar, a conference room, a terrace with 200 seats, a parking area and a terrace platform and beach for 150 people.
The boat Vert Galant, a restaurant boat already operating at Pont-Neuf with 100 seats, joined the Port de Bercy; the Rocca 4, a 112-seat passenger boat, was refitted into a 50-seat entertainment/reception boat and completed the fleet at the Marina de Bercy in order to better satisfy customer demand.
Sadly, 1999 was not just about satisfaction and hope: the company's patriarch and founder, Emile Azam, passed away in that year. With his passing, a new page of history was turned for Les Vedettes. His nephew Eric Levavasseur was elected Chairman of the Board of Directors, with Xavier, his brother, supporting him. The company remained strictly a family affair, as it always had been, with no external shareholders: brothers, sister, parents, uncles and aunts continued to share the ownership of the business. Alongside them a solid and enduring team ensured day-to-day operations, with a sense of family/teamwork spirit not found very often. The adventure continued. Work was undertaken to enlarge and totally renovate the pier of the port of Pont Neuf and completed end of 1999 / start of 2000.
In order to optimise its commercial development, Bercy Navigation, which operated the Marina de Bercy brand, opened up its capital to the Divercity / Cityrama group, a world leader in operating the "sightseeing bus". The association between the two groups would make it possible to create new combined products for visiting Paris, such as circuits from the Eiffel Tower, with stops at Notre-Dame and the Louvre, offered by Bateaux Parisiens under the combined brand of "Navicity".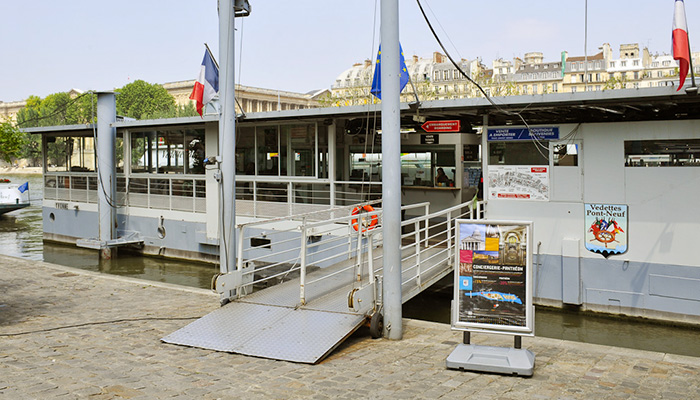 At the end of 2007, Les Vedettes du Pont Neuf took control of the company Canauxrama with its 25 years of experience on the Paris, Marne, Oise and Seine canals. Four boats adapted to the canals and the river added to the potential of Les Vedettes du Pont Neuf.