You will like ...
... simply discover Paris by night !
---
Embarking from the Île de la Cité, in a boat with terrace, you will be making the most original cruise of the city.
After leaving the Île de la Cité, you will make your entrance to the river Seine towards the heart of the city to discover the most beautiful monuments and bridges of the incredible Paris illuminated.
Our circuit will take you until the Liberty Statue located in the Grenelle Bridge, before making a U turn to see the Eiffel Tower sparkling its thousand lights
An amazing show that takes time every hour.
During the cruise, your guide with tell you the history of the city of lights, its beautiful bridges, making this romantic cruise an unforgettable experience.
OUR OFFERS INCLUDES:
A 220g board of french charcuterie and cheeses made from fresh products and composed of: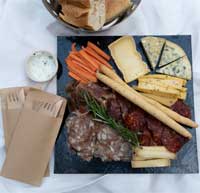 - Foie Gras
- Country Ham
- Dry sausage
- Cherry tomatoes and pickles
- Ham
- Chèvredou
- Camembert fermier and Comté !fruité
- all accompanied by Charentes-Poitou PDO butter and a half french baguette.
- 1 glass of wine !
But that's not all, you can also enjoy the great service of the bar and snacks on board.
With our partner CANAUXRAMA