You will enjoy...
A real guinguette experience in Paris!
A Guinguette atmosphere as soon as passengers arrive in the Port de l'Arsenal
The complete 2h circuit in the heart of Paris
The 290g board of cold meats and cheeses (for 2 people) to be selected at the time of booking
The discovery of a lock to get out on the Seine
Discover the illuminated monuments of Paris
The bar at your disposal and the musical atmosphere
...just discovering Paris by night!
---
Departing from the Arsenal port, in the heart of the lively Bastille district, board our boat with terrace for a festive cruise in a guinguette spirit!
Find the atmosphere of the popular balls with lanterns, garlands and gingham decor! Let yourself be carried away by the joyful and relaxed atmosphere on board, dance to the rhythm of the lively music and enjoy our cocktail bar and boards to share.
A 2-hour cruise on the Seine where you will enjoy an exceptional view of the bridges and monuments of Paris, up to the Eiffel Tower glittering with a thousand lights. A magical setting for a friendly, joyful and festive cruise.
Return to the Bastille (Port de l'Arsenal) to continue your evening in one of the trendy bars or restaurants of this very lively district of the capital.
OUR OFFERS INCLUDES:
A 290g board of french charcuterie and cheeses to share for 2 people, made from fresh products and composed of: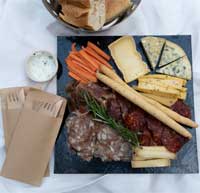 - Dry sausage
- Chorizo
- Bodega
- Comté 12 months
- Gouda plain
- Gouda green pesto
- Gouda with red pesto
- Tomme de Savoie
- Saint Marcelin
- 1 glass of wine!
To enhance your cruise experience you can also enjoy our on-board bar and snack service
With our partner CANAUXRAMA