You will enjoy...
Celebrate Valentine's Day in Paris Friday 14 or Saturday 15 of february
The departure from the Île de la Cité in the heart of Paris (at 7:00pm or 9:00pm)
The Parisian bar/cafe atmosphere
The charcuterie and cheese platter (fresh products from small farms)
The romantic glass of Champagne included in the price
The comprehensive 1h30 tour on the Seine
The cruise in front of

the Statue of Liberty

at the Pont de Grenelle and

the Eiffel Tower

glittering with a thousand lights.
The bar and snack service on board
...simply an idyllic romantic Valentine's day!
---
You will board at Quai de l'Horloge on the Île de la Cité, on a boat small enough to retain the personal touch, with a terrace, for one of the most original cruises in Paris.
Having left the Île de la Cité you will cruise along the Seine towards the heart of the capital where you will see the most beautiful monuments and bridges in Paris illuminated.
Our tour will take you as far as the Statue of Liberty at the Pont de Grenelle, before we do a u-turn and see the Eiffel Tower glittering with a thousand lights. A majestic spectacle which takes place once an hour.
During your cruise, our guide will tell you the history of the City of Light, with its magnificent bridges, and will include a few interesting anecdotes along the way during this romantic cruise.
OUR OFFER INCLUDES:
A 220g charcuterie and cheese platter consisting of fresh products sourced from small farms and including: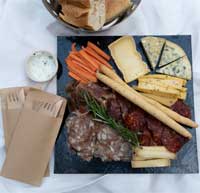 - Foie Gras
- Carated ham
- cooked ham
- dry cured sausage
- cherry tomatoes and pickles
- Chèvredou goat's cheese
- Camembert and Comté!
- All served with AOP Charentes-Poitou butter and bread !
- 3 sweet pastries for dessert
- 1 glass of wine
- 1 glass of Champagne
To enhance your cruise experience you can also enjoy our on-board bar and snack service
With our partner CANAUXRAMA